Okay, since some people have complained about my handwriting, I'm including typed captions!!!
Title: Roberto in hollowback headstand
Top Left: Emily evading a bencao from Roberto; Bret about to buy the game
Top Right: Roberto doing a suicidio over Bret
Bottom Left: Roberto and Bret playing
Bottom Right: Bret, Roberto, Phil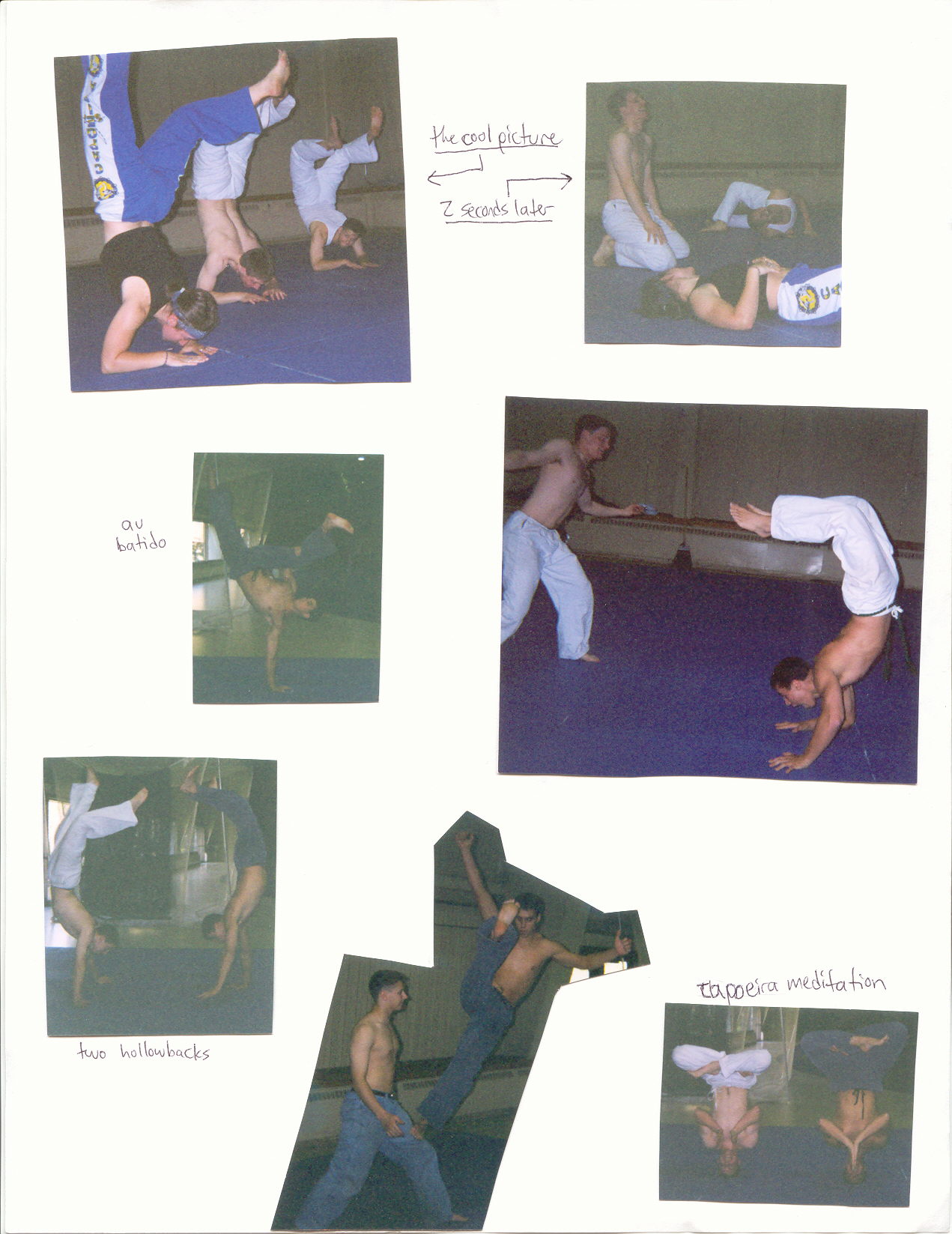 Top Left: Me, Bret, and Phil in escorpiao... notice how Phil's the only one looking at the camera; Bret and I are busy contemplating the floor
Top Right: the scene two seconds after the previous pic was taken :-p
Mid Left: Roberto's au batido
Mid Right: Roberto using the escorpiao while playing Bret
Bottom Left: Bret and Roberto doing hollowback aus
Bottom Middle: Phil and Roberto doing... something
Bottom Right: capoeira meditation! ...what, you can't stand on just your head for hours?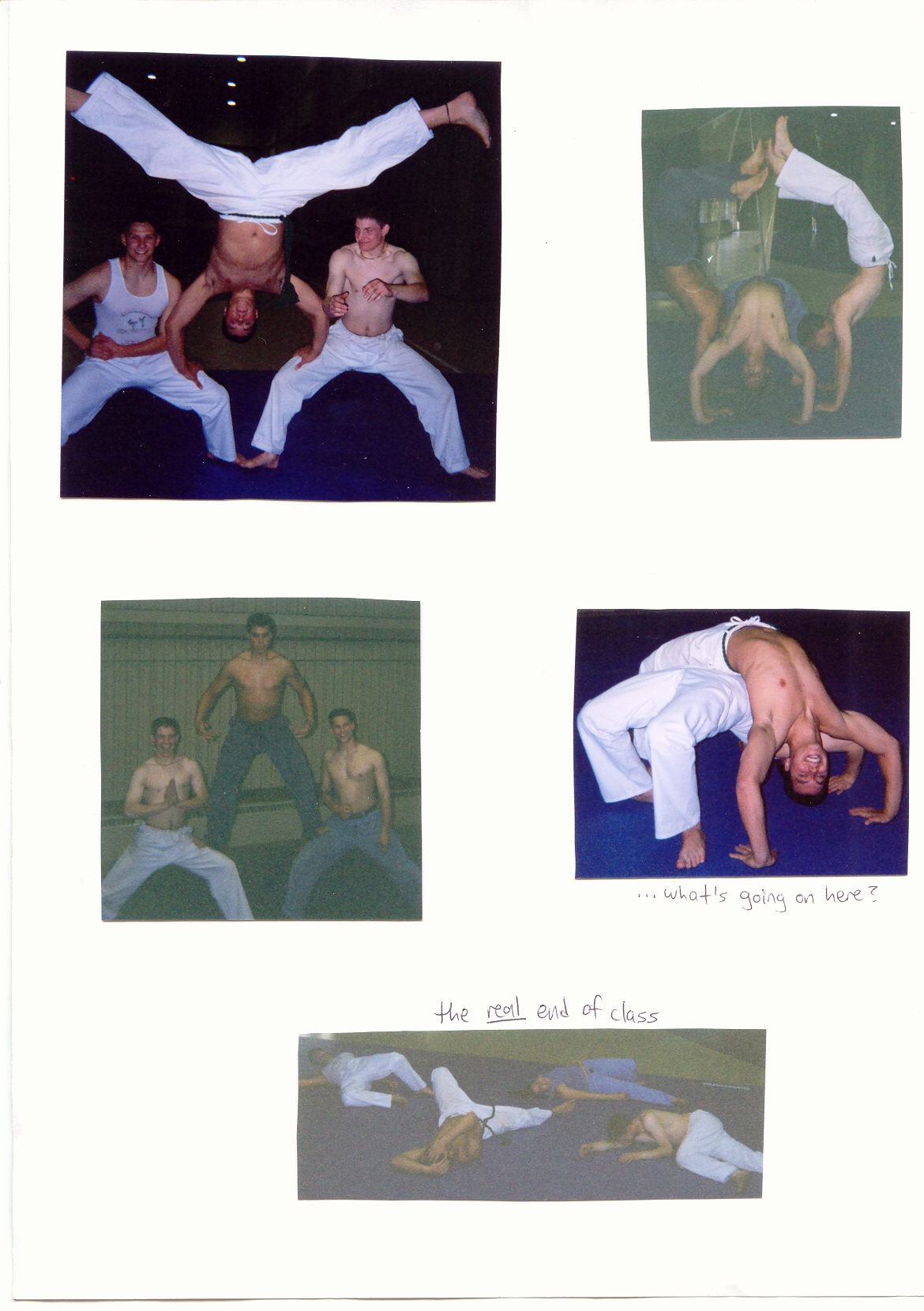 Top Left: Phil, Roberto, and Bret
Top Right: Roberto, Phil, and Bret, in kind of a neat hollowback pic
Mid Left: Bret, Roberto, Phil... we were really desperate to use up the last pictures on my camera at this point...
Mid Right: this picture's funny! :-p Roberto doing a bridge over Phil's, and showcasing the classic upside-down smile
Bottom: capoeira class doesn't end until we look like this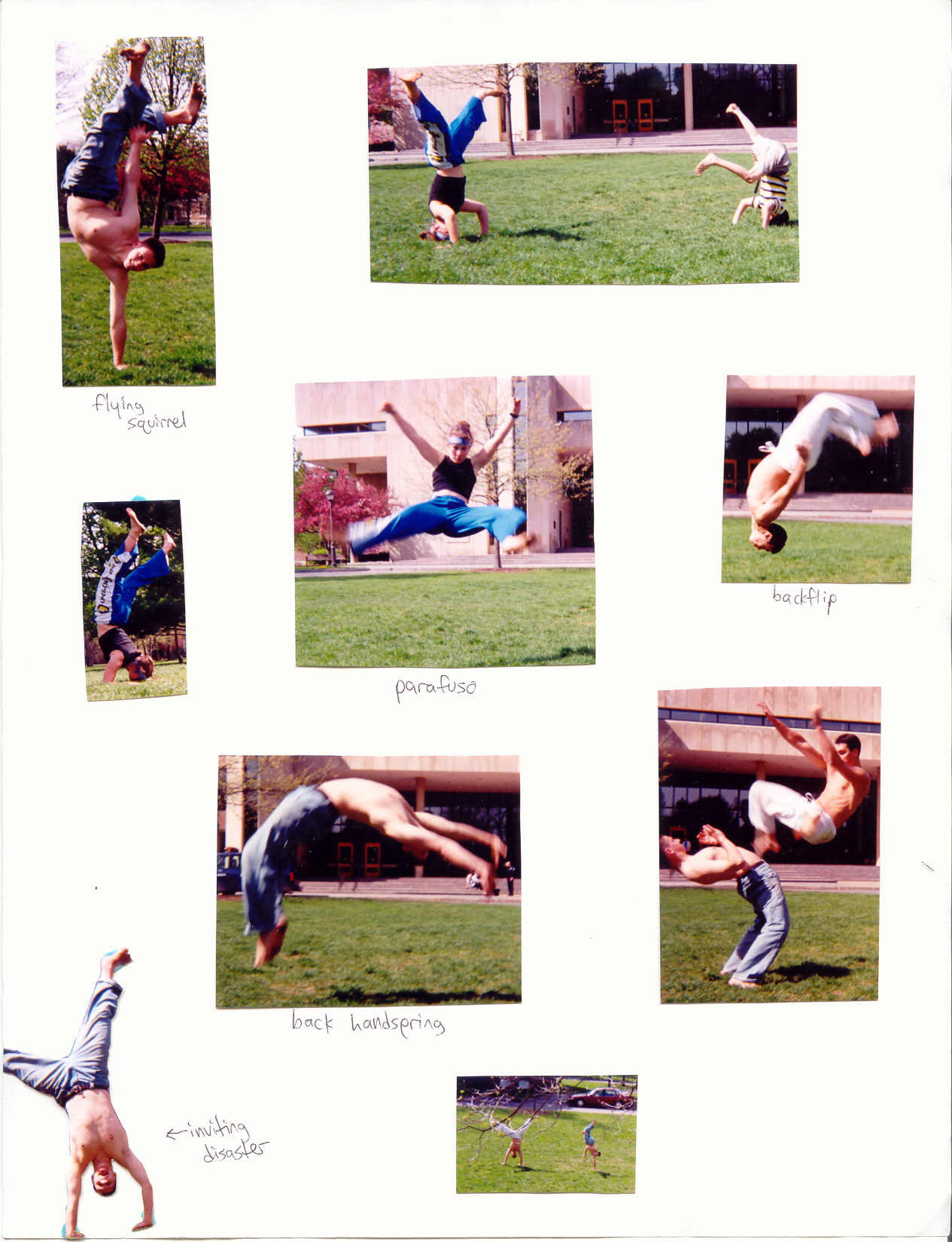 Top Left: Phil's flying squirrel au batido
Top Right: me and Carlos doing headstands
Middle Left: me doing escorpiao, looks like I'm kissing the ground
Middle Mid: my parafuso!!! I love this picture!
Middle Right: Roberto's backflip
Lower Left: Phil's back handspring - check out the bend in this kid's back! Ridiculous!
Lower Right: Roberto parafuso-ing over Phil
The Very Bottom Left: Phil au-ing, making a face, and inviting a kick or cabecada from me!
Bottom Right: Roberto and Phil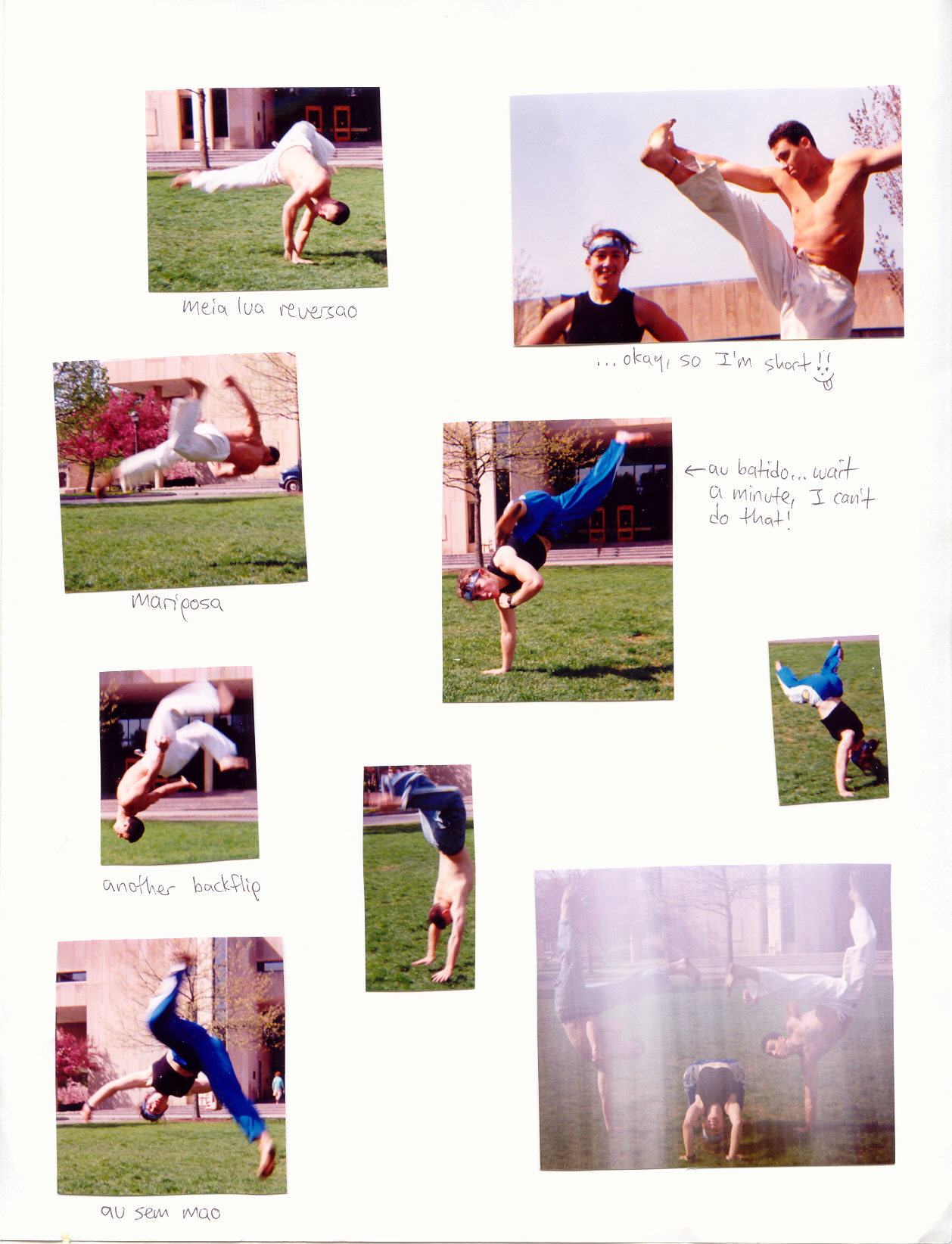 Top Left: crazy pic of Roberto in the middle of a meia lua reversao
Top Right: okay, so I'm short. means I can dodge kicks more easily! ;-)
Mid Left: Roberto's mariposa - nice height!
Mid Right: my au batido
Bottom Left Corner: my au sem mao
Bottom Right Corner: I love this picture!! Phil's and Roberto's bookend au batidos over me in a bridge.
...the other three random little pictures are of Roberto's backflip, Phil at the end of a back handspring, and me mid-au
Top Left: this is an awesome picture!!! Roberto doing parafuso over Phil's macaco
Top Right: Phil leapfrogging over Roberto
Mid Left: Roberto diving through my queda de rins
Mid Middle: Phil dodging Roberto's kick
Mid Right: Phil and Roberto
Lower Left: me and Roberto
Lower Right: I like this pic too :-) me in an au, Phil about to S-dobrado